The Museum of Fine Arts in Boston has John Singleton Copley's Paul Revere, the Smithsonian has Gilbert Stuart's George Washington and the Louvre has Leonardo da Vinci's Mona Lisa.
Throughout the world, these portraits are so iconic, they are more than mere paintings. They have become sources of national pride that reveal a nation's story and reflect its very identity.
At the Kent-Delord House Museum, our family portraits are the icons that tell our story. We can all be proud of this early Plattsburgh family and the pivotal role they played at a crucial time in our community's and nation's history.
Betsey
What is so special about these two KDHM portraits?
These paintings and in fact, every thing in the Museum is a genuine family relic. It is not just that the portraits were painted by two prominent early American portrait artists, it is that they are central to the story.
Why did the portraits require conservation?
The oil on wood panel portrait of Elizabeth (Betsey) Ketchum Delord, showed slight warping and separation from its frame, as if it might fall away from the frame. Henry Inman's oil on canvas portrait of Henry Livingston Webb showed separation from the stretcher and linear distortion of the canvas.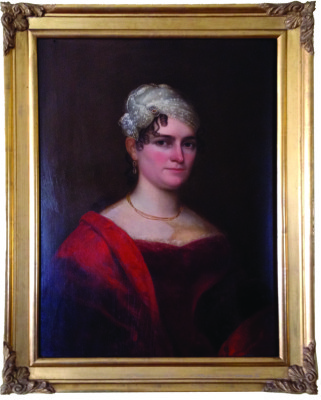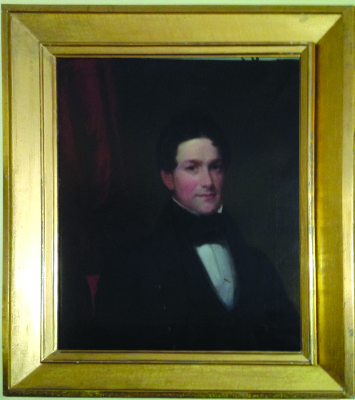 What is the proposed treatment?
Technicians at the Williamstown Art Conservation Center in Williamstown, Mass., are now in the process of cleaning, repairing, reinforcing and protecting each portrait with a final coat of varnish. Reports will include before and after photography of both paintings.
Why is X-ray recommended for Betsey's Portrait?
Painted in 1818 by itinerant artist Abraham G. D. Tuthill, Betsey's portrait was over painted 14 years later (a shawl was added) by another artist, Henry Inman, at the request of Betsey's son-in-law Henry Livingston Webb.
The over-painting was noticed right away by technicians at the WACC. Did the Museum want it restored to the original? Although we are all curious about the original design of the dress, we voted no because the over-painting is so much a part of the story of Betsey and the sweeping changes in social values and religious expression that took place in the first half of the nineteenth century.
Are there any clues about the design of the dress?
The x-ray, reveals the original costume, a ribboned Empire waist dress with short puffed sleeves and the sitter's bare arm.